'Shy' Dating Sites*
Along with Shy Passions (the site you are on now), the sites listed below all focus on connecting Shy singles, Introverts, singles previously identified as having Aspergers (before that term was changed), Autism or other social anxiety issues with like-minded singles and those who understand and accept these issues. The sites listed below range from those focused on Shy dating to others focused on Shy singles chat. The primary goal is to connect shy and introverted people with other singles online. Each site, regardless of the company running it, shares many of the same characteristics as many of the other sites. So, if you are looking for a great dating site focused on Shy singles, then there are a LOT available. Look below to find the one that seems like the best fit for you.
AD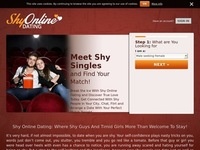 Shy Online Dating
"Meet Shy Singles and Find Your Match!"
Shy Online Dating: Where Shy Guys And Timid Girls Meet One Another! For some people, shyness is a minor inconvenience, while for others it is socially debilitating. This site welcomes shy individuals where there is a shared understanding that everyone is dealing with some level of shyness.

Aspergers Chat City
"Find a Chat Partner at Aspergers Chat City!"
Aspergers Chat City is a place for Aspies and NTs to chat. If you have been looking for a place where Aspies and Aspie friendly persons can exchange experiences and chat in a friendly environment, this site is for you!

Shy Dating
Meet Shy Singles
Loner? Timid? Introvert? Socially Anxious? Shy Dating has been designed specifically to help connect introverted singles with others who are also a bit shy or at least with others who understand the majority of members on the site are shy.

Aspergers Dating Site
"Meet Singles with AS at Aspergers Dating Site!"
"Aspergers Dating Site is an Online Dating Community for Singles with Asperger's Syndrome."

Autism Chat City
"Be Yourself in Autism Chat City"
Members on Autism Chat City are either on the autism spectrum or they are comfortable in connecting with autistic singles for friendship or more. If you are interested in a welcoming site where autism is not an issue, this is the site for you.

Autism Dating Service
Meet Local Autistic Singles
Many of those dealing with autism, as well as their friends and family, inevitably ask themselves about whether or not autism is going to prevent them from finding love. The answer is no. Many people with autism have a romantic loving relationship. This site has been built to help those with autism interact with others who are as well, and hopefully find new friends as well as a potential romantic partner.
AD

Shy Dating Service
"Meet Shy Girls and Guys and Start New Connections!"
"Don't Let Your Shyness Stop You from Finding Love. Let Shy Dating Service Help You Find a Loving Partner in Your Area."

Introvert Dating Site
"Discover The Appeal That Lies Within"
Introvert Dating Site has been invented as a hub for people who find it difficult to open up and share emotions with the new people they meet, which helps them interact with strangers from the safety of their own territory.
Shy United
Shyness Focused Forum
Shyness United is an active forum with a wide range of forum topics of interest to introverted, shy individuals.
Aspies For Freedom
Connect With Other Autistics Online And Offline
Chat in our chat room with people with autism or aspergers. No need to register, simply click and chat.
AD
*Sites listed on this page are a combination of ads, affiliate related Sites and general non-partnership related sites that match the theme of Shy Passions.